The California Water Boards' Water Data Center is proud to present the CA Water Quality Status Report. This report is an annual data-driven snapshot of the Water Board's water quality and environmental data. This inaugural version of the report is based solely on the surface water datasets available via the [Surface Water Ambient Monitoring Program (SWAMP)] (http://www.waterboards.ca.gov/swamp/) and in future years we hope to expand this to include the groundwater, drinking water and water resource datasets available in our state. Our goal is to use data to inform both data storytelling (as in this inaugural report) and water quality indicators, including watershed report cards.
The 2017 Water Quality Status Report is organized around seven major themes that our team thought both individually and collectively tell important stories about the overall health of our state's surface waters. Each theme-specific story includes a brief background, a data analysis summary, an overview of management actions, and access to the raw data.
For more information please contact the Office of Information Management and Analysis (OIMA).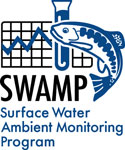 Data for the section "Setting Flow Targets to Support Biological Integrity in Southern California Streams" can be found on the California open data portal.
Data for the section "Nutrients and Algae in Aquatic Ecosystems" can be found here.
| Field | Value |
| --- | --- |
| Publisher | |
| Modified | 2018-06-27 |
| Release Date | 2017-06-09 |
| Identifier | c7feb78b-6a7f-45a7-ab9f-35c63585e14a |
| License | |
| Public Access Level | |